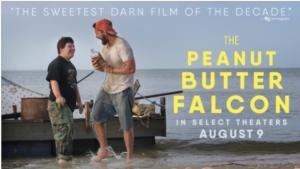 Team Asa is excited to host a private screening of The Peanut Butter Falcon for our friends from Tempe Adaptive Recreation programs and their families.
The Peanut Butter Falcon is an empowering movie with themes of kindness and empathy. It's also powerful from a representation standpoint, as it centers on a character with Down syndrome (Zack Gottsagen).
"We believe it is important for everyone to be able to see themselves living out their dreams," said Denise Rentschler, Team Asa Chief Instigator. "Zack is an inspiration for all of us. We are truly excited to be able to share his moment in the spotlight."
The heartwarming adventure story is set in the world of a modern Mark Twain. It begins when Zak (22), a young man with Down syndrome, runs away from the nursing home where he lives to chase his dream of becoming a professional wrestler by attending the wrestling school The Salt Water Redneck.
Please join us and our friends from Tempe Adaptive Recreation on Thursday, Sept. 5 at 5 p.m. at Harkins Tempe Marketplace. There is no charge to attend the event, but seating is limited and tickets are required. You can get a free ticket online at www.tempe.gov/brochure; using Activity Code #65102.
Prior to the show, families and friends will have the opportunity to mingle and network. Team Asa has partnered with the City of Tempe's Adaptive Recreation team to help expand the Parent/Caregiver Community.