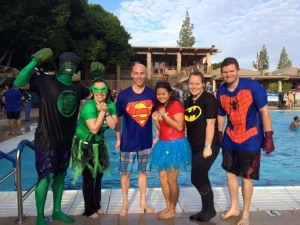 Are you ready for the coldest and most heart-warming event ever?
The 6th Annual Polar Bear Plunge will be Saturday, January 21 and we'll be jumping at 9 a.m.!
Brave Polar Bears will plunge into the cool pool while Teddy Bears stay dry and cheer on! The entry fee is $20 for either Bear and includes a cool long-sleeve t-shirt, hot beverages, yummy snacks and the warm fuzzies that come from giving back. Registration is available online or on-site the morning of the plunge.
Since the inaugural plunge in 2012, we have raised more than $25,000, helping to ensure members of our special needs community have the financial resources to participate in recreational and social activities.
Pre-Plunge Party!
Looking for double the Polar Plunge fun? Join us for our Inaugural Pre-Plunge Party on Friday, January 20! We'll be across the street at the Watershed from 4 – 7 p.m. the night before. Stop by to pick up your t-shirts, register early, start early on the raffle and bid for some super awesome silent auction items!